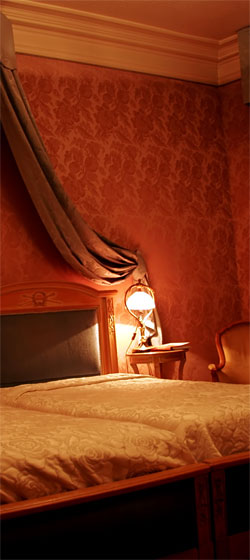 A Room With a View
All (F)ront and (B)ack rooms are balcony rooms, with the front rooms facing out toward the wood and the road and the back rooms facing toward the bar and toygarden. Rooms B7 and B8 belong to the owners, who have a pass-though to avoid having to go into the hall to hassle each other. The (I)nterior rooms have neither balconies nor windows, and as such are perfect for creatures that fare ill when exposed to daylight or the elements.
Regardless of the balcony or lack thereof, all rooms at the inn are the same price.
| | | |
| --- | --- | --- |
| One night: | 13sp | |
| One week: | 8gp | (80sp, a 13% savings!) |
| One month: | 23gp | (230sp, a 34% savings!) |
We are, as has been noted, quite cheap, which is no indication of the quality of the lodgings, which are, while not nearly modern-standard, a definite improvement on the standard of the time in which they were built. Rooms have a queen-size bed, wardrobe, dresser, and water closet, with a hand-pump and tankless water heater, to fill the bath. Temperature is maintained via climate-control spell, and tends to stay between 18 and 21C (64-70F).
| | | | | |
| --- | --- | --- | --- | --- |
| Rm | Guest | Check In | Check Out | Price |
| F01 | | 0000-00-00 | 0000-00-00 | |
| F02 | | 0000-00-00 | 0000-00-00 | |
| F03 | | 0000-00-00 | 0000-00-00 | |
| F04 | | 0000-00-00 | 0000-00-00 | |
| F05 | | 0000-00-00 | 0000-00-00 | |
| F06 | | 0000-00-00 | 0000-00-00 | |
| F07 | | 0000-00-00 | 0000-00-00 | |
| F08 | | 0000-00-00 | 0000-00-00 | |
| F09 | | 0000-00-00 | 0000-00-00 | |
| F10 | | 0000-00-00 | 0000-00-00 | |
| F11 | | 0000-00-00 | 0000-00-00 | |
| F12 | | 0000-00-00 | 0000-00-00 | |
| F13 | | 0000-00-00 | 0000-00-00 | |
| F14 | Morning-star | 2012-02-05 | 2014-02-05 | 576gp |
| B01 | | 0000-00-00 | 0000-00-00 | |
| B02 | | 0000-00-00 | 0000-00-00 | |
| B03 | | 0000-00-00 | 0000-00-00 | |
| B04 | | 0000-00-00 | 0000-00-00 | |
| B05 | | 0000-00-00 | 0000-00-00 | |
| B06 | | 0000-00-00 | 0000-00-00 | |
| B07 | Frostburn | 1670-04-16 | 2029-12-31 | |
| B08 | Icefeather | 1670-04-16 | 2029-12-31 | |
| B09 | | 0000-00-00 | 0000-00-00 | |
| B10 | | 0000-00-00 | 0000-00-00 | |
| B11 | | 0000-00-00 | 0000-00-00 | |
| B12 | | 0000-00-00 | 0000-00-00 | |
| B13 | Takumi Zetsumei | 2011-01-02 | 2029-12-31 | -- |
| B14 | A Postumius Merula | 2012-09-15 | 2013-03-15 | 144gp |
| I01 | | 0000-00-00 | 0000-00-00 | |
| I02 | | 0000-00-00 | 0000-00-00 | |
| I03 | | 0000-00-00 | 0000-00-00 | |
| I04 | | 0000-00-00 | 0000-00-00 | |
| I05 | | 0000-00-00 | 0000-00-00 | |
| I06 | | 0000-00-00 | 0000-00-00 | |
| I07 | | 0000-00-00 | 0000-00-00 | |
| I08 | | 0000-00-00 | 0000-00-00 | |
| I09 | Darkense | 2011-04-15 | 2029-12-31 | |
| I10 | | 0000-00-00 | 0000-00-00 | |
| I11 | | 0000-00-00 | 0000-00-00 | |
| I12 | | 0000-00-00 | 0000-00-00 | |
| I13 | | 0000-00-00 | 0000-00-00 | |
| I14 | | 0000-00-00 | 0000-00-00 | |
| I15 | | 0000-00-00 | 0000-00-00 | |
| I16 | | 0000-00-00 | 0000-00-00 | |